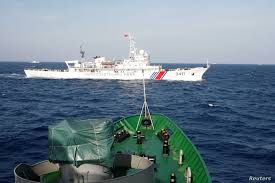 The situation in the South China Sea in 2019 was extremely tense, due to aggressive actions by China that increased the risk of conflict. According to observers, in 2020, it will be hard to maintain peace in the region, since there is not only tension between China and coastal countries in the South China Sea, but also Sino-US strategic competition in the South China Sea, which is becoming fiercer than ever. There are even experts who believe that the South China Sea is becoming a gunpowder furnace and one of the hottest spots on the planet.
However, according to Professor Hu Bo, Director of the Center for Maritime Strategy Research and Research Professor at the Institute of Ocean Research, Peking University, the risk here is only "small-scale armed conflict". Also mentioned in his article "3 Keys to a Peaceful China-US Maritime Coexistence" in The Diplomat were three proposals to reduce the risk of armed conflict:
First, the US and China need to reach a consensus on power distribution in the Western Pacific region. Hu Bo said that the correlation of forces in this area had gradually been tilted toward Beijing, thanks to decade-long investments in military modernization, though in terms of absolute strength, now or near future, China could not be compared with the United States.