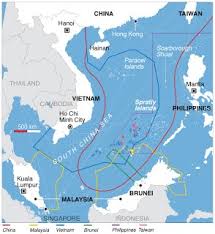 Different from the last three years, this year is marked with the high-profile 4thanniversary of the PCA South China Sea Ruling. Various events to praise the rule of law in the South China Sea took place.
1. The 'feast' begins with a message from the Philippines Foreign Secretary on July 12th 2020. July 12th was the exact day four years ago when The Hague Tribunal issued a ruling rejecting China's sovereignty claims over most of the South China Sea.
In his message, Foreign Secretary Teodoro Locsin Jr. stated that the PCA South China Sea Ruling 2016 was "non-negotiable", and called for China's serious compliance with the ruling. Mr Locsin also underscored that the ruling "conclusively settled the issue of historic rights and maritime entitlements in the South China Sea… under the United Nations Convention on the Law of the Sea 1982 (UNCLOS)".
By adducing China's acts in violation of international law cited by the Tribunal, including massive reclamation and construction of artificial features in the South China Sea with severe environmental impacts, Mr Locsin stressed the Tribunal's conclusion that certain actions of China within the Philippines' Exclusive Economic Zone (EEZ) violated the Philippines' sovereign rights and "were thus unlawful".